We are taking Bear on a trip mostly On Grid to test his systems and for us to learn this rig better before we go Off Grid. Nightly stops will still include plenty of truck stops. Speaking of truck stops, we ended up paying for a 'slot' for the first time ever.  We were after dark getting to a TA truck stop and there were no slots … so we quickly dialed the 800 number and reserved a slot after a very long day.  The 'pay' slots are always available.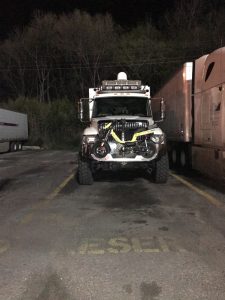 We have been members of FMCA for many years with our other RV's but we have never attended a gathering.  We closed out a long weekend at FMCA's 97th International Convention and RV Expo at the Georgia National Fairgrounds and Agricenter in Perry, GA Wednesday through Monday.
We were "semi-grid" as we had electric service but not water or sewer.  It was quick showers and quick dishwashing.  The 'sewer' guy stopped by to take a picture and we thought… yeah, might be a good idea to get him to drain the black and gray tanks — why take a chance.
It was held at a really nice location with lots of wide open spaces for lots and lots of RV's – as far as you could see in multiple areas.The FMCA staff did an excellent job at organizing all of these rigs.  We were close but not too close.  The transportation to / from seminars and shopping areas was great although we were close enough to walk most of the time. The weather cooperated with only one heavy rain shower.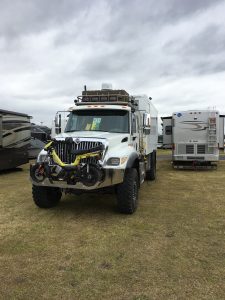 We found some really neat 'camping' items that you don't see anywhere else that are compact and will work great in our rig as we travel.  We did have one major purchase; a new Dometic ice chest refrigerator /freezer that we will carry in the back area.  The one that came on the rig was running continuously (under our bed) draining our batteries as it was 12 years old.
We spent time meeting new people and sharing stories.  When you listened to where some people have been already and are headed, you say to yourself "I have a lot to add to my list".  This great country of ours is vast and has a lot landscapes to visit.  That, again, is our vision to build a gathering place of locations to visit On and Off Grid for those who want to travel.
One quick story to end this post — One night as we were attending the nightly entertainment (which was really good), it came a downpour of heavy rain.  As we were heading back to our rig, we discussed how to get back.  We had been walking through a field with a big dip in the middle of it that after the rain was probably pretty muddy / deep in water.  We decided we would walk the long way around on the asphalt road.  As we began walking, an older couple in a golf cart just stopped and asked if we would like a ride.  We said sure and the gentleman asked which way we needed to go.  We told him and he said "Just came from there, but we'll just head back there again".
These are the type of people you meet in this mode of travel — selfless and helpful.
Signed,
Bear and Friends
Things you see traveling through the Georgia countryside…..